Last month I took my seventh trip to Bishkek, Kyrgyzstan. I hadn't visited the country in a few years, and I'm pleased to report that the immigration and customs process was smoother than ever. There are no direct flights to Kyrgyzstan from the United States. Most Americans reach Kyrgyzstan by way of Aeroflot, BMI, or Turkish Airlines, transiting through their respective countries. I chose Turkish Airlines since I'm familiar with Ataturk Airport in Istanbul and have the benefit of Star Alliance Gold status.
I flew to Istanbul out of JFK Airport in New York and had a five hour layover at Ataturk. Turkish Airlines has really come a long way in terms of service and amenities. Their planes are new and the service, food, and overall experience is comparable to Western European carriers. Once in Istanbul, I headed to the Turkish Airlines lounge, which was the finest Star Alliance lounge I've ever visited. After walking in, there was a billiard room with a large pool table and shelves with a variety of coffee table books.
Walking onward, the main lounge area had a great selection of comfortable seats. From relaxing chairs and couches to café style tables, the seating arrangement was suitable to everyone. A self playing piano adorned the middle of the space. The lounge featured hot food cooked to order, and several bar stations with beer, wine, and soft drinks. International newspapers were plentiful and flat screen televisions relayed the day's news.
After relaxing for a few hours, I started walking to the boarding area. I was a bit nervous when the Turkish Airlines representative said that she would be checking passports and visas. Although I could have gotten a visa at the Kyrgyz consulate in New York, I was traveling and couldn't leave my passport overnight. Luckily, Kyrgyzstan permits travelers from the United States and most Western European countries the opportunity to purchase visas at Manas Airport.
When I approached the Turkish Airlines representative, she gave me a bewildered look as I told her I planned to get my visa at Manas. "Good luck with that," she said as she typed a text message to her colleague. "What are you talking about," I responded. "The Kyrgyz consulate website says that I can get a visa at Manas Airport?" "Fine," she huffed, as she dismissively handed my passport back to me. I was a bit puzzled, but boarded the flight as planned. In my past travels to Kyrgyzstan, I never had problems getting into the country. However, this was the first time I opted to purchase a visa at the airport, after I had arrived.
The flight to Bishkek was mostly Kyrgyz citizens returning from shopping junkets in Istanbul. There were a few American servicemen going to Manas Airbase, and a group of Dutch men going on a hunting trip in the Kyrgyz backwoods. I slept most of the flight, but was awakened by the rough landing at Manas Airport. Bishkek landings are always bumpy, given the coarse condition of the runway.
Upon exiting the plane, three Kyrgyz police officers were waiting, eyeing the passengers. Although they have always been very helpful to me personally, the tall Soviet style hats make them look intimidating. I walked into the immigration area and was relieved to find a woman working at the visa window. During the flight, I wondered if I would be able to purchase a visa at landing (3AM) or if I would have to wait until normal business hours, the next day. As I approached, I took a visa application and filled out basic biographical information. When I finished, I handed the application to the visa woman with my passport. I was shocked when she returned me my passport in less than 3 minutes. I paid the fee of $70 and was on my way to the immigration officer. He proceeded to look at the visa, and then look at some of the other stamps in my passport. I could tell that he wanted to know why I traveled so much, but his English was limited. He stamped my visa, and handed me my passport without incident. While I've never personally had an issue at Manas, I know colleagues who have had problems getting into Kyrgyzstan. I've heard these problems can generally be sorted out with an extra payment, but this ambiguity remains a concern to people traveling to Kyrgyzstan.
After clearing immigration, I walked down a hallway to a Turkish Airlines representative collecting barcoded luggage tracking stickers. At JFK, they stuck the luggage tracking sticker on the ticket stub of my JFK-IST boarding pass. I had to dig through my pockets and carryon bag, but eventually I found it. I'm not sure what would have happened if it had been lost. After that, a Kyrgyz customs agent directed certain passengers to put their bags through a scanner. As I walked, he pointed to my small carryon bag. I put it on the belt, and took it out the other side without incident. There was also a metal detector set up, although the passengers weren't required to remove metals or jackets.
That was the last leg of the entry process to Kyrgyzstan. As I walked out into the terminal, throngs of drivers shouted "taxi, taxi." I kept walking as if I knew where I was going, nervously looking for my friend. A minute later, through the hoards of passengers, drivers, and police, my friend emerged. I was in Bishkek without a problem.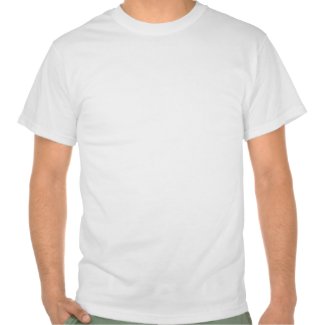 Bishkek, Kyrgyzstan Coat of Arms Tee Shirts
by
Fiedler_Mundt
View Bishkek T-Shirts online at
zazzle