While New York City is undoubtedly pricey, the notion that it's an unaffordable city to visit is wrong. I laugh every time tourists tell me they save money by staying at hotels in New Jersey or Connecticut and taking the train into Manhattan. Staying in Manhattan is by far the best way to get the complete New York City experience.
Nothing against the other boroughs, but for a first time tourist, Manhattan is where it's at. The majority of attractions are located in Manhattan, it's the easiest borough to navigate for a newbie, and you can walk or take the subway to just about anywhere else in the city. Why spend time commuting when you should be pounding the pavement and exploring!
Don't let the New York mentality fool you - there are hotel bargains to be found in Manhattan. Many economy class chain hotels have sprung up over the past five years. Although they will charge more than their brethren located around the airports or in the suburbs, the central convenience they provide makes them a sensible investment, not to mention the time and aggravation you'll save!
Plus, there are lots of great independent hotels that are cheaper and have a whole lot more character than the likes of your run of the mill Marriot, Hilton, or Westin. Websites like hotels.com and travelocity.com will give you a good idea of what's out there. Be sure to narrow your search to Midtown and set a price cap of $200. See what pops up, keeping in mind that prices and availability are constantly changing depending on the season. While you're searching, keep an eye out for these three hotels. They are centrally located, uniquely New York, and won't break the bank.
The Hotel Pennsylvania is endowed with 1920's style charm, affordability and an amazing location. Situated at 7th Avenue and 32nd Street, the hotel is directly across from Madison Square Garden and Pennsylvania Station. Tourists who are unfamiliar with the city couldn't ask for a better location, they're right in the middle of it all! The area is a bit chaotic during the day, especially during the morning and evening hours when hoards of commuters file into Penn Station for their ride home.
Hotel guests can easily walk to Times Square and Rockefeller Center, while Central Park, Chelsea, Union Square, and Greenwich Village are only a short subway or taxi ride away. The Pennsylvania's Midtown-South location can be a bit seedy at night, but that's all part of the charm. Find out more about the Hotel Pennsylvania at www.hotelpenn.com.
Located in the same neighborhood, the New Yorker Hotel is another solid choice that has earned a fine reputation with frugal travelers. At 8th Avenue and 34th Street, the New Yorker is the closest hotel to the Jacob Javitz Convention Center, making it popular with business travelers with who are in town for a trade show. The New Yorker's art deco architecture and grand lobby make for an enthusiastic welcome. Marble floors, gold leaf doors, and high ceilings with chandeliers give the place a palatial feel.
Although that palatial feel is pretty much restricted to the lobby area, the rooms are more than decent and most offer amazing views. The west side of the New Yorker has unobstructed views of the Hudson River while some rooms on the 8th Avenue side provide breathtaking views of the Empire State Building. For more information on the New Yorker, go to www.newyorkerhotel.com.
The Carter Hotel may not be pretty, but any property charging $99 per night in the heart of Times Square must be included on this list. Intrigued yet? Read on! The legendary Carter Hotel is west of Times Square at 250 W. 43rd Street. Guests are greeted by a peculiar gold sign at the main entrance announcing "you wanted in Time Square & Less."
Possibly a reflection of the Hotel's Vietnamese ownership, don't judge the place by its sign! While it's certainly been a long time since the Carter's glory days, recent renovations have made the hotel tourist worthy once again. Don't be fooled -The Carter is the motor inn equivalent of Midtown's hotel scene. Having said that, the place has come a long way since New York City paid the hotel to house its homeless in the 1980's.
While any potential guest will probably have second thoughts after reading horrifying customer reviews on any number of travel websites, these rants should be taken in stride. Bottom line: If you're high maintenance, you probably won't like the Carter. But if affordability, clean sheets, and a private bath are your only requirement, it may be the perfect place. After all, you're going to be out exploring the city and not hanging out in the room all day! Check out the Carter's website at www.carterhotel.com for more information.
Whatever you do, don't buy into the myth that a trip to New York City has to include white glove service and five star hotels. With a little research, an affordable Manhattan getaway is possible!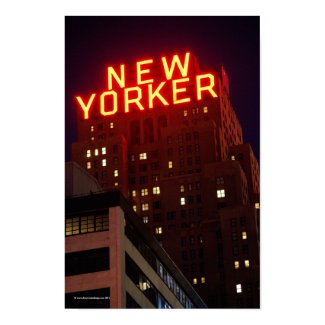 New Yorker Hotel Poster
by
downroutedesign
Browse for more
framed art posters
at zazzle