Since my last post, I got a message asking about visa procedures for entering Kyrgyzstan.

I'm glad somebody asked me, because I went through lots of needless uncertainty on my trip as well.
Here's the bottom line: If you're a citizen of the United States or most of Western Europe, you can purchase a visa at Manas Airport.

You don't need to go to the consulate ahead of time.
My last visit to Bishkek was in November, and I transited through Istanbul on Turkish Airlines.

When boarding the flight to Bishkek, a Turkish Airlines representative was checking passports and visas.

I and another American didn't go to the consulate to pre-purchase a visa.

The Turkish representative looked shocked, and was concerned that the Kyrgyz authorities wouldn't allow us into the country. After trying to explain that we planned to purchase the visa at Manas, she made a phone call.

After some back and forth, she let us get on the plane.
Needless to say, this made me a bit nervous.

The Kyrgyz immigration agents don't exactly have the most stellar reputation when it comes to honesty, and I was worried they would try to exploit the opportunity.
Lucky for me, I was nervous about absolutely nothing at all.

The immigration procedure was smooth.

I went up to the visa desk and handed my passport to the woman working behind it.

She handed me a form to fill out.

After I filled it out, she didn't scrutinize it at all.

In fact she didn't even seem to care what I had written down.
I paid the fee in dollars, and was on my way to the immigration agent.

He was a bit theatrical when looking at my passport photo, holding it next to my fact for a better comparison.

After a solid 45 seconds of comparing, he stamped my passport.

From this point on, it was smooth sailing.

After picking up my baggage, Customs agents randomly selected one to go through the XRAY machine.

No problem, they didn't bother to search it.

I was on my way – let the vacation begin!
Here's the exact language concerning a tourist visa to Kyrgyzstan, according to the U.S. State Department.

Keep in mind that this information changes, so check the source.
"ENTRY / EXIT REQUIREMENTS FOR U.S. CITIZENS: A passport and a visa are required. U.S. citizens can obtain a one-month single-entry, non-extendable tourist visa upon arrival at the Manas International Airport outside Bishkek for a fee of $80 without invitation or sponsorship. If purchasing a visa at the airport, at least one blank passport page is required. Travelers cannot obtain tourist visas at land borders or regional airports."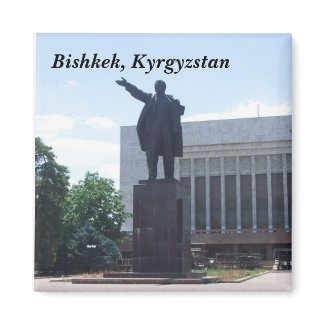 Lenin Statue, Bishkek, Kyrgyzstan Magnets
by
Fiedler_Mundt
Make your own
personal fridge magnets
at zazzle.com