Everyone has watched a movie that featured Times Square empty.

Typically, the world comes to an end or natural disaster strikes, and the crossroads of the world is left eerily bare.

In reality, that's not truly the case.
At one point, I worked near Times Square and had to walk through it on my way home.

Many times, I would leave work very late and go through Times Square because there were always restaurants open.

You can always count on Starbucks or McDonald's for a late night fix, not to mention a smattering of gourmet delis.
I don't work near Times Square anymore, and these days I find myself trying to avoid it if at all possible.

Gawking tourists are probably the most annoying thing about Times Square.

They stand stationary on an already crowded sidewalk, while native New Yorkers attempt to hustle past them to get to their next meeting on time.
Last week, I found myself in Times Square for the first time in a long while.

I had been barhopping around New York City, starting in the East Village and ending in Korea Town (K-Town) when 4AM struck.

I felt a bit weary, so I prescribed myself a bit of fresh Manhattan air to revive me.

I walked up to Times Square, knowing that the Starbucks there would have a tall pike's peak at the ready.
After I got my coffee, I sat down on the patio-type furniture in Times Square's so-called pedestrian plaza.

By this time, it was probably 5:15AM.

While the place certainly wasn't empty, it was serenely quiet.

There was a real motley crew sitting in the metal chairs around me.

I found myself amongst a mix of homeless, late night partiers sobering up, tourists, and the first corporate warriors starting their day.
It was at this point that I decided to stand up, turn on my camera, and do a complete 360 degree turn around Times Square.

I hope you enjoy it, and if you're ever in New York City, be sure to visit Times Square off hours.

It's an absolutely euphoric feeling!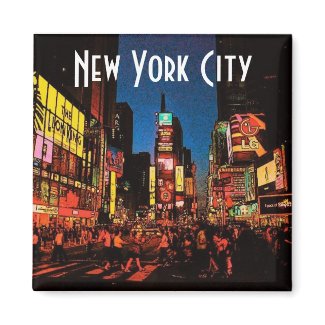 New York City (Neon) Magnet
by
RickDouglas
View additional
magnets
from zazzle.com.